October 14, 2022
Trail Trust supports first ever Allies Mountain Bike Festival
When we started Trail Trust in November 2021, we knew we wanted to partner with organizations doing meaningful, on-the-ground work to deliver sustainable adventure to all. One of the first partners we identified was the Indigenous Youth Mountain Bike Program (IYMBP), a British Columbia-based nonprofit founded and led by Patrick Lucas. Their mission is to support Indigenous Peoples and communities to plan, design, build and maintain high quality and environmentally-sustainable single track nature trails, and enable healthy active living through self-powered outdoor recreation. Additionally, they are committed to raising awareness and fostering authentic reconciliation between Indigenous and non-Indigenous communities.
Together with the central B.C. First Nation Simpcw, IYMBP recently hosted the first ever Allies Mountain Bike Festival which took place in Chua Chua, the home of Simpcw First Nation, northeast of Kamloops. Simpcw First Nation has developed more than 15 km of trails on their territory, and many of their youth have played a hands-on role in building this trail network. The goal of the festival was to bring Indigenous and non-Indigenous trail users together to connect over a shared love of mountain biking and enjoyment of these trails.
Attendees joined from near and far, including members from several other First Nation communities throughout Canada as well as Diné Navajo in Arizona. Participants shared stories and spent the day riding the trails together. The festival concluded with an authentic dinner of Bannock tacos and a viewing of several short films showcasing the connection between recreation and reconciliation, and the impressive trail building that has been done on Indigenous territories across North America.
A group of Fox employees had the privilege of representing Trail Trust at the Festival and forging connections with Indigenous community members and allies alike.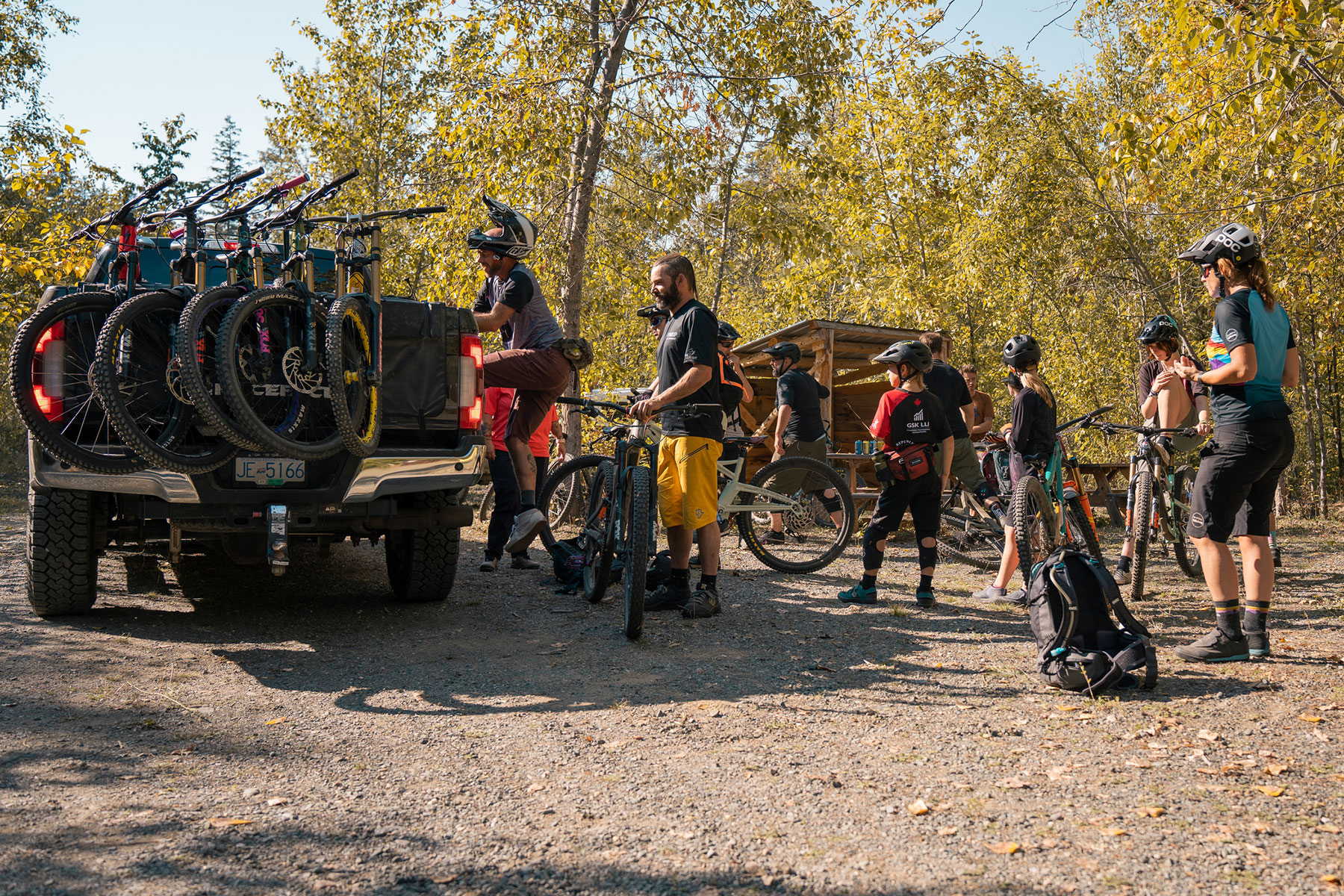 "It was an honor to speak with Indigenous cyclists from across the continent and connect over our shared passion for mountain biking. These conversations were a meaningful way to practice allyship and show our support and appreciation for the Indigenous community," explained Sam Ross, Technical Customer Service Representative at our Burnaby site.
Fox employee Michael Nash was also in attendance at the Festival and helped coordinate a Lunch and Learn for the Burnaby office earlier in the week with IYMBP's Patrick Lucas. He shared, "It's important that we show up and be present for events like the Allies Mountain Bike Festival. Recreating responsibly means understanding the history of the land and ensuring that we take care of it for generations to come. For each country that may look a little different, but in Canada learning about our First Nations and forming authentic connections are critical steps in the reconciliation process."
The Fox team is grateful to have been a part of this inspiring gathering and is proud to continue supporting the excellent work of the Indigenous Youth Mountain Bike Program through Trail Trust. Employee Natalie Lesser looks forward to Fox's continued involvement in community events such as this in the future. "Seeing the Indigenous and non-Indigenous people connect, laugh, and bond over mountain biking and their love of the land was heartwarming. I'm excited to continue learning how to be an ally."
Thank you to IYMBP and the Simpcw First Nation for hosting this inspiring gathering. Learn more at https://iymbp.ca/ and https://www.simpcw.com/.